Miðvikudagur, 9. janúar 2013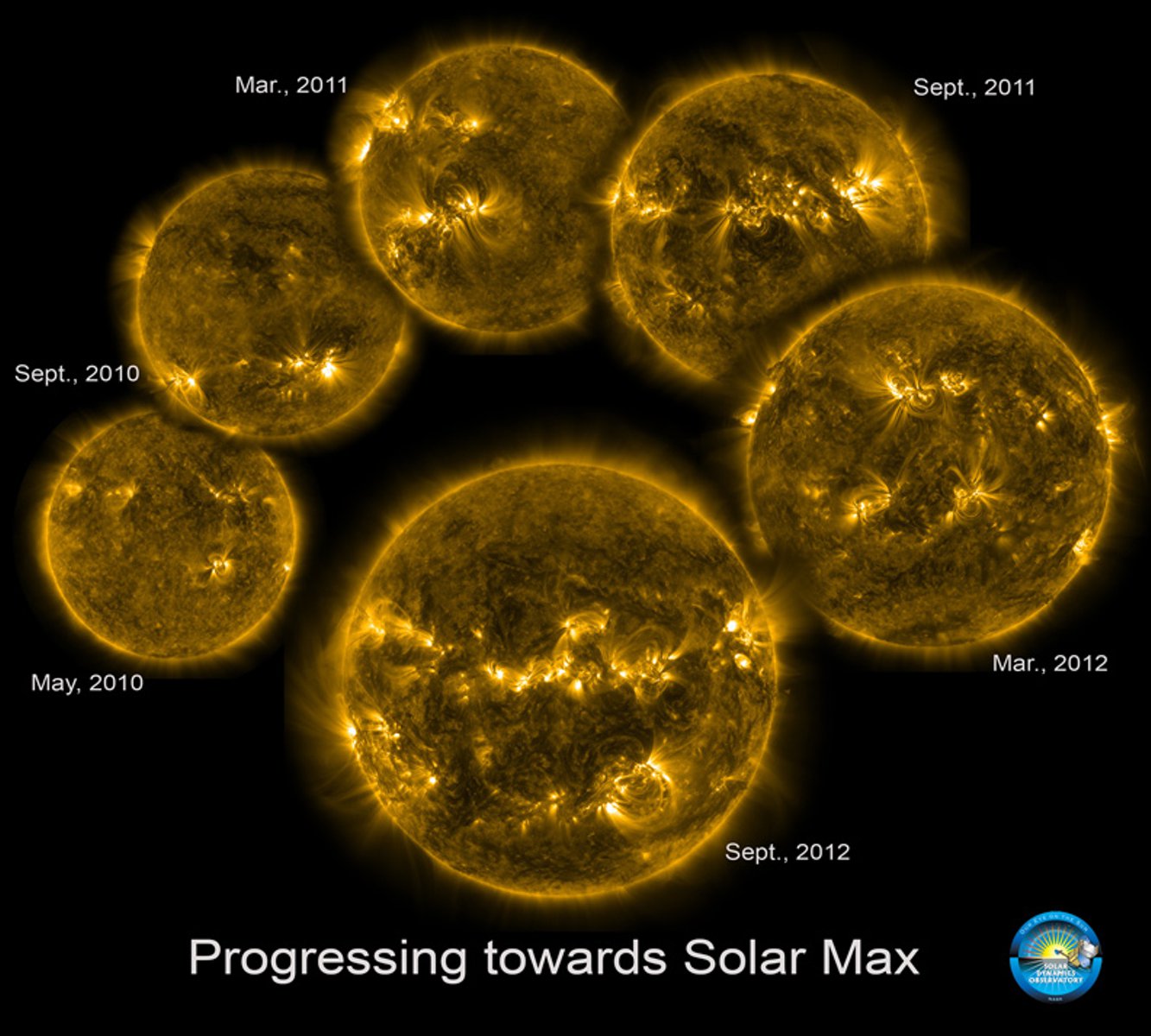 Í gær 8. jan. 2013 birtist á vefnum NASA Science News athyglisverð frétt. Innihaldið kemur þeim sem þessar línur ritar ekki mikið á óvart, en þeim mun ánægjulegra er að lesa  fréttina og ekki síður skýrsluna sem hún vísar til.
Í stuttu máli þá er vísað til skýrslu frá National Research Council (NRC) sem nefnist "The Effects of Solar Variability on Earth's Climate".   NCR gerði sér grein fyrir að nauðsynlegt væri að smala saman fimm tugum sérfræðinga frá hinum ýmsu sérfræðisviðum svo sem plasmaeðlisfræði, sólvirkni, loftslagsefnafræði, straumfræði, eðlisfræði háorkuagna, loftslagssögu jarðar...   Þetta væri það flókið mál að enginn einn sérfræðihópur eins og t.d. loftslagsfræðingar hefðu nægilega yfirgripsmikla þekkingu á málinu.
Oft er vitnað til þess að heildarútgeislun sólar  breytist aðeins um 0,1% yfir 11-ára sólsveifluna, en það ætti ekki að hafa mikil bein áhrif á hitafarið.   Það gleymist þó oft í umræðunni að aðrir þættir geta verið miklu áhrifameiri, en útfjólublái þáttur sólarljóssins breytist miklu miklu meira, en hann breytist um 1000% eða meir yfir sólsveifluna. Á það benti bloggarinn reyndar á fyrir 15 árum hér
Svo má ekki gleyma öðrum þáttum svo sem agnastreymi frá sólinni, háorku rafeindum og geimgeislum sem fjallað er um í skýrslunni.
Nú er það spurning hvort hratt minnkandi sólvirkni um þessar mundir eigi sinn þátt í að hitastig jarðar hefur staðið í stað undanfarin 16 ár samkvæmt HadCrut4 gögnum bresku veðurstofunnar MetOffice, en nú um jólin kom fram í nýrri spá frá þeirri sömu stofnun að þessi stöðnun verði a.m.k. til 2017, þ.e. í fulla tvo áratugi. Hvað þá tekur við mun tíminn leiða í ljós.
Auðvitað svaraði þessi sérfræðinganefnd ekki öllum spurningum sem brenna á vörum manna, en vonandi er þetta bara byrjunin á því að menn líti til himins eftir skýringum, það er nefnilega svo örstutt út í geiminn frá yfirborði jarðar...
Sjá frétt NASA Science News  Solar Variability and Terrestrial Climate  hér.
Sjá drög að skýrslunni frá NCR  "The Effects of Solar Variability on Earth's Climate" hér.
 Mynd úr skýrslunni
Klippt úr frétt NASA:

In the galactic scheme of things, the Sun is a remarkably constant star.  While some stars exhibit dramatic pulsations, wildly yo-yoing in size and brightness, and sometimes even exploding, the luminosity of our own sun varies a measly 0.1% over the course of the 11-year solar cycle.

There is, however, a dawning realization among researchers that even these apparently tiny variations can have a significant effect on terrestrial climate...

-

Of particular importance is the sun's extreme ultraviolet (EUV) radiation, which peaks during the years around solar maximum.  Within the relatively narrow band of EUV wavelengths, the sun's output varies not by a minuscule 0.1%, but by whopping factors of 10 or more.  This can strongly affect the chemistry and thermal structure of the upper atmosphere.

Several researchers discussed how changes in the upper atmosphere can trickle down to Earth's surface.  There are many "top-down" pathways for the sun's influence.  For instance, Charles Jackman of the Goddard Space Flight Center described how nitrogen oxides (NOx) created by solar energetic particles and cosmic rays in the stratosphere could reduce ozone levels by a few percent.  Because ozone absorbs UV radiation, less ozone means that more UV rays from the sun would reach Earth's surface.

Isaac Held of NOAA took this one step further.  He described how loss of ozone in the stratosphere could alter the dynamics of the atmosphere below it.  "The cooling of the polar stratosphere associated with loss of ozone increases the horizontal temperature gradient near the tropopause," he explains. "This alters the flux of angular momentum by mid-latitude eddies.  [Angular momentum is important because] the angular momentum budget of the troposphere controls the surface westerlies."  In other words, solar activity felt in the upper atmosphere can, through a complicated series of influences, push surface storm tracks off course. 
-
Many of the mechanisms proposed at the workshop had a Rube Goldberg-like quality. They relied on multi-step interactions between multiples layers of atmosphere and ocean, some relying on chemistry to get their work done, others leaning on thermodynamics or fluid physics.  But just because something is complicated doesn't mean it's not real...

-

The solar cycle signals are so strong in the Pacific, that Meehl and colleagues have begun to wonder if something in the Pacific climate system is acting to amplify them. "One of the mysteries regarding Earth's climate system ... is how the relatively small fluctuations of the 11-year solar cycle can produce the magnitude of the observed climate signals in the tropical Pacific."  Using supercomputer models of climate, they show that not only "top-down" but also "bottom-up" mechanisms involving atmosphere-ocean interactions are required to amplify solar forcing at the surface of the Pacific...

-

Indeed, the sun could be on the threshold of a mini-Maunder event right now.  Ongoing Solar Cycle 24 is the weakest in more than 50 years.  Moreover, there is (controversial) evidence of a long-term weakening trend in the magnetic field strength of sunspots. Matt Penn and William Livingston of the National Solar Observatory predict that by the time Solar Cycle 25 arrives, magnetic fields on the sun will be so weak that few if any sunspots will be formed. Independent lines of research involving helioseismology and surface polar fields tend to support their conclusion...

 
Verkefni nefndarinnar í stórum dráttum samkvæmt skýrslunni:

• The Sun and Solar Variability: Past and Present
- Overview of solar and heliospheric variability
- Observations of the Sun's variable outputs
- Techniques for revealing past solar changes

• Sun-Climate Connections on Different Timescales
- Evidence of solar influences in the troposphere and stratosphere
- How the climate system works and how it might respond to solar influences
- Indications of influence based on paleoclimate records

• Mechanisms for Sun-Climate Connections
- Mechanisms connecting variations in total solar irradiance directly to the troposphere
- Mechanisms that influence upper parts of the atmosphere, such as variations in solar
ultraviolet radiation and possibly solar energetic particles
- Mechanisms that link variations in galactic cosmic rays to climate change.

 
Nefndina skipuðu:
Caspar Ammann, National Center for Atmospheric Research
Susanne Benze, University of Colorado, Boulder
Blair Bowers, Caset Associates, Ltd.
Matthias Brakesusch, University of Colorado, Boulder
Gabriel Chiodo, Universidad Complutense de Madrid

Odele Coddinggon, Laboratory for Atmospheric and Space Physics, University of Colorado, Boulder
Guiliana de Toma, High Altitude Observatory, National Center for Atmospheric Research
Ells Dutton, Global Monitoring Division, National Oceanic and Atmospheric Administration
Juan Fontenla, Laboratory for Atmospheric and Space Physics, University of Colorado, Boulder
Joe Giacalone, University of Arizona

Sarah Gibson, High Altitude Observatory, National Center for Atmospheric Research
Douglas Gough, JILA, University of Colorado, Boulder
Madhulika Guhathakurta, Living With a Star, National Aeronautics and Space Administration
Jerald Harder, Laboratory for Atmospheric and Space Physics, University of Colorado, Boulder
V. Lynn Harvey, Laboratory for Atmospheric and Space Physics, University of Colorado, Boulder

Lon Hood, University of Arizona
Charles Jackman, NASA Goddard Space Flight Center
Philip Judge, High Altitude Observatory, National Center for Atmospheric Research
Farzad Kamalabadi, University of Illinois at Urbana-Champaign
Peter Kiedron, Earth System Research Laboratory, National Oceanic and Atmospheric Administration

Hyosub Kil, Applied Physics Laboratory, Johns Hopkins University
Greg Kopp, Laboratory for Atmospheric and Space Physics, University of Colorado, Boulder
Andrew Kren, University of Colorado, Boulder
Hanli Liu, High Altitude Observatory, National Center for Atmospheric Research
Jesse Lord, Laboratory for Atmospheric and Space Physics, University of Colorado, Boulder

Dan Lubin, Scripps Institution of Oceanography, University of California, San Diego
Janet Machol, National Geophysical Data Center, National Oceanic and Atmospheric Administration
Youhei Masada, Kyoto University, Japan
Joe McInerney, High Altitude Observatory, National Center for Atmospheric Research
Scott McIntosh, High Altitude Observatory, National Center for Atmospheric Research

Aimee Merkel, Laboratory for Atmospheric and Space Physics, University of Colorado, Boulder
Mark Miesch, High Altitude Observatory, National Center for Atmospheric Research
Raimund Muscheler, Lund University, Sweden
Seung Jun Oh, SELab, Inc.
Ethan Peck, Laboratory for Atmospheric and Space Physics, University of Colorado, Boulder

Jeffrey Pierce, Dalhousie University, Halifax, Nova Scotia
Douglas Rabin, NASA Goddard Space Flight Center
Cora Randall, Laboratory for Atmospheric and Space Physics, University of Colorado, Boulder
Mark Rast, University of Colorado, Boulder
Alan Robock, Rutgers University

Fabrizio Sassi, Naval Research Laboratory
Harlan Spence, University of New Hampshire
Mark Stevens, University of Colorado, Denver
Michael Thompson, High Altitude Observatory, National Center for Atmospheric Research
Juri Toomre, JILA, University of Colorado, Boulder

Thomas Woods, Laboratory for Atmospheric and Space Physics, University of Colorado, Boulder
Lawrence Zanetti, Applied Physics Laboratory, Johns Hopkins University

Abigail Sheffer, NRC Space Studies Board
Michael Moloney, NRC Space Studies Board and Aeronautics and Space Engineering Board
Amanda Thibault, NRC Aeronautics and Space Engineering Board
Terri Baker, Space Studies Board
   Mynd úr skýrslunni
Skrár tengdar þessari bloggfærslu:
Meginflokkur: Vísindi og fræði | Aukaflokkar: Bloggar, Stjórnmál og samfélag, Umhverfismál | Breytt s.d. kl. 20:35 | Facebook
« Síðasta færsla | Næsta færsla »