Föstudagur, 11. september 2009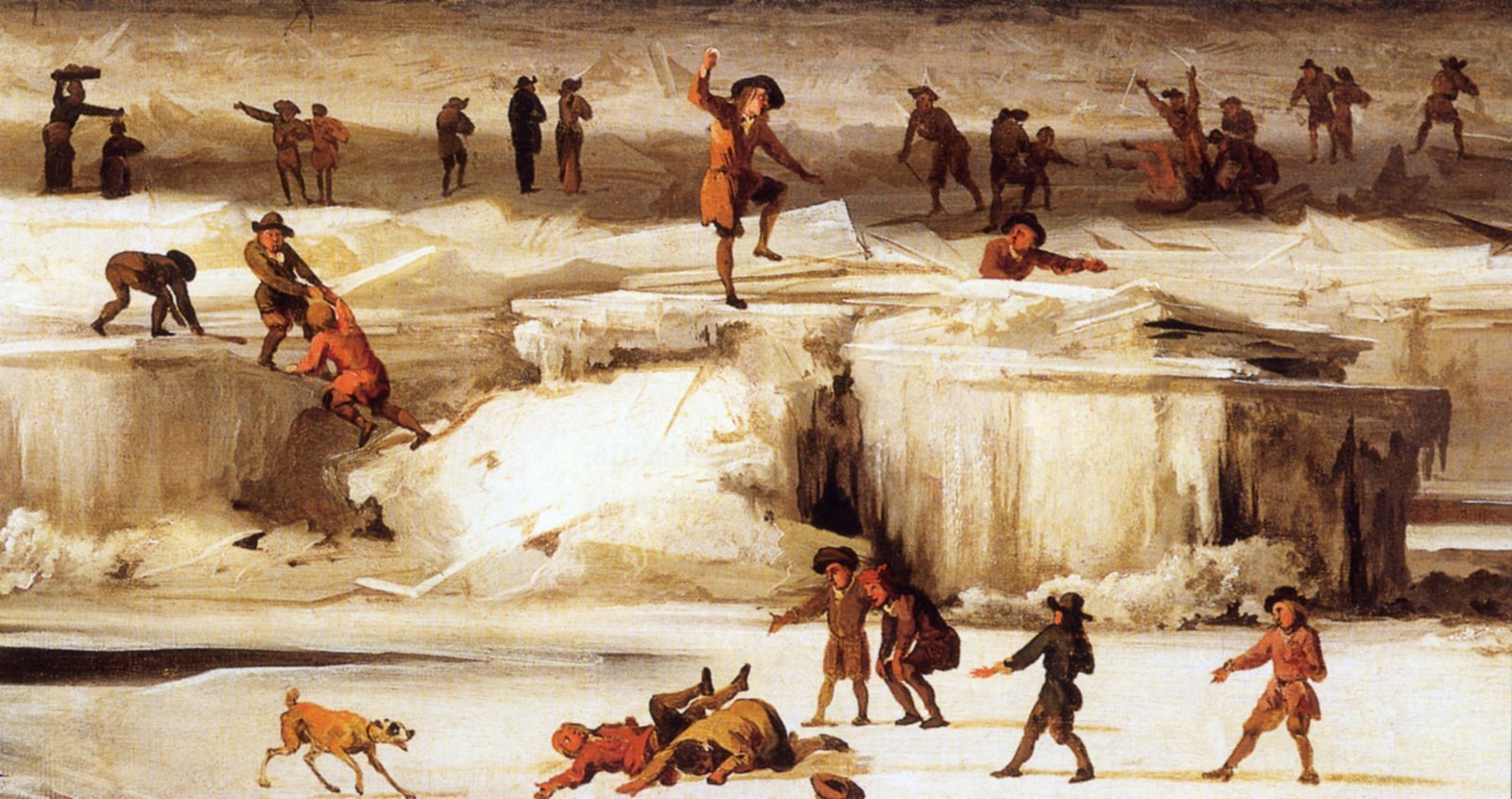 Mens Solen Sover
nefnist splunkuný blaðagrein í Jyllandsposten eftir
Dr. Henrik Svensmark prófessor
, höfund hinnar nýstárlegu kenningar um samspil sólar, geimgeisla, skýjafars og hitastigs lofthjúps jarðar, en bloggarinn hefur fjallað um þessi mál í rúman áratug.
(Sjá pistla bloggarans hér, hér, hér, hér, hér, hér, hér,  hér, hér...)
(Myndin hér að ofan er frá Thames við London um 1677. Smella þrisvar á mynd til að stækka.
Fleiri myndir eftir Abraham Hondius hér).
»Vi anbefaler vores venner at nyde den globale opvarmning,
mens den varer«.
Hvers vegna segir þú það Hinrik? Reyndar er þetta alveg mögnuð grein hjá þér. Þar kemur margt fram sem við Íslendingar þekkjum svo vel...   Kærar þakkir fyrir að skrifa svona grein "á mannamáli" sem almenningur skilur, því þetta kemur okkur öllum við, ekki síst okkur sem búum á jaðri heimskautasvæðanna.
"Meðan sólin sefur"

Dustið nú rykið af dönskunni!

(Þýðing yfir á ensku eftir Nigel Calder er  hér neðar á síðunni ef eihver skyldi gefast upp á dönskunni).
 Jyllands Posten 9. september 2009:
http://jp.dk/opinion/kronik/article1809681.ece
 (Leturberytingar eru að mestu eftir bloggarann til að reyna að gera textann læsilegri af skjá).
Mens Solen sover
Offentliggjort 09.09.09 kl. 03:00
Faktisk er den globale opvarmning standset, og en afkøling er så småt begyndt. Ingen klimamodel har forudsagt en afkøling af Jorden, tværtimod. Det betyder, at prognoser for fremtidens klima er utilregnelige, skriver Henrik Svensmark.
Den stjerne, der holder os i live, har gennem det seneste par år været næsten uden solpletter, som er det normale tegn på Solens magnetisk aktivitet.

I sidste uge rapporterede det videnskabelige hold bag Sohosatellitten (Solar and Heliospheric Observatory) at »antallet af solplet-frie dage antyder, at Solens aktivitet er på vej mod det laveste niveau i omkring 100 år«. Alt tyder på, at Solen er på vej i en dvalelignende tilstand, og det åbenlyse spørgsmål er, om det har nogen betydning for os på Jorden.

Spørger man det Internationale Klimapanel IPCC, som repræsenterer den gældende konsensus på klimaområdet, så er svaret et betryggende »ingenting«. Men historien og den seneste forskning tyder på, at det sandsynligvis er helt forkert. Lad os se lidt nærmere på hvorfor.

Solens aktivitet har til alle tider varieret. Omkring år 1000 havde vi en periode med meget høj solaktivitet, som faldt sammen med middelaldervarmen. Det var en periode, hvor frost i maj var et næsten ukendt fænomen og af stor betydning for en god høst. Vikinger bosatte sig i Grønland og udforskede Nordamerikas kyst. I det hele taget var det en opgangstid. For eksempel fordobles Kinas befolkning gennem denne periode. Men efter omkring 1300 faldt solaktiviteten, Jorden begyndte at blive koldere, og det blev begyndelsen på den periode vi nu kalder den Lille Istid. I denne kolde periode forsvandt alle vikingernes bosættelser i Grønland. Svenskerne overraskede Danmark med at gå over isen, og i London frøs Themsen gentagne gange. Men mere alvorligt var de lange perioder med fejlslagen høst, som resulterede i en dårligt ernæret befolkning der på grund af sygdom og sult blev reduceret med omkring 30 pct. i Europa.

Det er vigtigt at fastslå, at den Lille Istid var en global hændelse. Den endte i slutningen af det 19. århundrede og efterfulgtes af en stigende solaktivitet. Gennem de seneste 50 år har solaktiviteten været det højeste siden middelaldervarmen for 1.000 år siden. Og nu ser det ud til at Solen skifter igen og er på vej mod det, som solforskere kalder »et grand minimum« som vi så i den Lille Istid.

Sammenfaldet mellem Solens aktivitet og klimaet gennem tiderne er forsøgt bortforklaret som tilfældigt. Men det viser sig, at næsten ligegyldigt hvilken periode man undersøger, altså ikke kun de sidste 1.000 år, så findes en overensstemmelse. Solens aktivitet har gentagne gange gennem de seneste 10.000 år svinget mellem høj og lav. Faktisk har Solen gennem de seneste 10.000 år befundet sig i en dvaletilstand ca. 17 pct. af tiden med en afkøling af Jorden til følge.

Man kan undres over, at det internationale klimapanel IPCC ikke mener at Solens forandrede aktivitet har nogen betydning for klimaet, men grunden er, at man kun medtager forandringer i Solens udstråling.



Netop udstrålingen ville være den simpleste måde, hvormed Solen kunne ændre på klimaet. Lidt som at skrue op og ned for lysstyrken af en elektrisk pære.

Satellitmålinger af Solens udstråling har vist, at variationerne er for små til at forårsage klimaændringer, men dermed har man lukket øjnene for en anden meget mere effektiv måde, hvorpå Solen er i stand til at påvirke Jordens klima. I 1996 opdagede vi en overraskende påvirkning fra Solen - dens betydning for Jordens skydække. Højenergitiske partikler accelereret af eksploderede stjerner, den kosmiske stråling, hjælper til at danne skyer.

Når Solen er aktiv, skærmer dens magnetfelt bedre mod de kosmiske stråler fra verdensrummet, før de når vores planet, og ved at regulere på Jordens skydække kan Solen skrue op og ned for temperaturen. Med høj solaktivitet fås færre skyer, og jorden bliver varmere. Lav solaktivitet skærmer dårligere mod den kosmiske stråling, og det resulterer i øget skydække, og dermed en afkøling. Da Solens magnetisme har fordoblet sin styrke i løbet af det 20. århundrede, kan denne naturlige mekanisme være ansvarlig for en stor del af den globale opvarmning i denne periode.



Dette er også forklaringen på, at de fleste klimaforskere prøver at ignorere denne mulighed. Den griber nemlig ind i forestillingen om, at det 20. århundredes temperaturstigning hovedsagelig skyldes menneskelig udledning af CO2. Hvis Solen nemlig har haft betydning for en anselig del af opvarmningen i det 20 århundrede, så betyder det, at CO2's andel nødvendigvis må være mindre.

Lige siden vores teori blev fremsat i 1996, har den været gennem meget skarp kritik, hvilket er normalt i videnskaben.

Først sagde man, at en sammenhæng mellem skyer og Solens aktivitet ikke kunne være rigtig, fordi ingen fysisk mekanisme var kendt. Men i 2006 efter mange års arbejde lykkedes det os at gennemføre eksperimenter ved DTU Space, hvor vi demonstrerede eksistensen af en fysisk mekanisme. Den kosmiske stråling hjælper med at danne aerosoler, som er kimen til skydannelsen.

Derefter gik kritikken på, at den mekanisme, vi have fundet i laboratoriet, ikke ville kunne overleve i den virkelig atmosfære og derfor var uden praktisk betydning. Men den kritik har vi netop eftertrykkeligt afvist. Det viser sig, at Solen selv laver, hvad vi kan kalde naturlige eksperimenter. Kæmpemæssige soludbrud kan få den kosmiske stråling på Jorden til at dykke pludseligt over nogle få dage. I dagene efter disse udbrud falder skydækket med omkring 4 pct., og indholdet af flydende vand i skyerne (dråber) formindskes med næsten 7 pct. Her er tale om en meget stor effekt. Faktisk så stor, at man populært kan sige, at skyerne på Jorden har deres oprindelse i verdensrummet.

Derfor har vi set på Solens magnetiske aktivitet med voksende bekymring, siden den begyndte at aftage i midten af 1990'erne.

At Solen kunne falde i søvn i et dybt minimum, blev antydet af solforskere på et møde i Kiruna i Sverige for to år siden. Da Nigel Calder og jeg opdaterede vores bog "The Chilling Stars" skrev vi derfor lidt provokerende »vi anbefaler vores venner at nyde den globale opvarmning, mens den varer«.

Faktisk er den globale opvarmning standset, og en afkøling er så småt begyndt. I sidste uge blev det fremført af Mojib Latif fra universitet i Kiel på FN's World Climate Conference i Geneve, at afkølingen muligvis fortsætter gennem de næste 10 til 20 år.

Hans forklaring var naturlige forandringer i Nordatlantens cirkulation og ikke i Solens aktivitet. Men ligegyldigt hvordan det fortolkes, så trænger de naturlige variationer i klimaet sig mere og mere på.

En konsekvens må være,at Solen selv vil vise sin betydning for klimaet og dermed teste teorierne for den globale opvarmning. Ingen klimamodel har forudsagt en afkøling af Jorden, tværtimod.

Det betyder, at prognoser for fremtidens klima er utilregnelige. En prognose, der siger, at det muligvis er varmere eller koldere om 50 år, er ikke meget bevendt, for videnskaben er heller ikke i stand til at forudsige Solens aktivitet.

Så på mange måder står vi ved en skillevej. Den nærmeste fremtid vil blive overordentlig interessant, og jeg tror, at det er vigtigt at erkende, at naturen er fuldkommen uafhængig af, hvad vi mennesker tror om den. Vil drivhusteorien overleve en betydelig afkøling af Jorden? Ikke i dens nuværende dominerende form. Desværre kan fremtidens klimaudfordringer blive nogle helt andre end drivhusteoriens forudsigelser, og måske bliver det igen populært at forske i Solens betydning for klimaet.

Professor Henrik Svensmark er leder af Center for Sun-Climate Research på DTU Space. Hans bog "The Chilling Stars" er også udgivet på dansk som "Klima og Kosmos" (Gads Forlag, DK ISBN 9788712043508)
--- --- ---
Uppfært 12. sept. klukkan 21:55;   Nigel Calder þýddi greinina úr dönsku yfir á ensku með samþykki Henriks Svensmark. Þetta er mun betra en Google þýðingin sem var hér áður.

Published 9 September 2009 in Jyllands-Posten, Denmark's best-selling newspaper.
Translation approved by Henrik Svensmark
While the Sun sleeps
Henrik Svensmark, Professor, Technical University of Denmark, Copenhagen
"In fact global warming has stopped and a cooling is beginning. No climate model has predicted a cooling of the Earth – quite the contrary. And this means that the projections of future climate are unreliable," writes Henrik Svensmark.
The star that keeps us alive has, over the last few years, been almost free of sunspots, which are the usual signs of the Sun's magnetic activity. Last week [4 September 2009] the scientific team behind the satellite SOHO (Solar and Heliospheric Observatory) reported, "It is likely that the current year's number of blank days will be the longest in about 100 years." Everything indicates that the Sun is going into some kind of hibernation, and the obvious question is what significance that has for us on Earth.
If you ask the Intergovernmental Panel on Climate Change (IPCC) which represents the current consensus on climate change, the answer is a reassuring "nothing". But history and recent research suggest that is probably completely wrong. Why? Let's take a closer look.
Solar activity has always varied. Around the year 1000, we had a period of very high solar activity, which coincided with the Medieval Warm Period. It was a time when frosts in May were almost unknown – a matter of great importance for a good harvest. Vikings settled in Greenland and explored the coast of North America. On the whole it was a good time. For example, China's population doubled in this period.
But after about 1300 solar activity declined and the world began to get colder. It was the beginning of the episode we now call the Little Ice Age. In this cold time, all the Viking settlements in Greenland disappeared. Sweden surprised Denmark by marching across the ice, and in London the Thames froze repeatedly. But more serious were the long periods of crop failures, which resulted in poorly nourished populations, reduced in Europe by about 30 per cent because of disease and hunger.
It's important to realise that the Little Ice Age was a global event. It ended in the late 19th Century and was followed by increasing solar activity. Over the past 50 years solar activity has been at its highest since the medieval warmth of 1000 years ago. But now it appears that the Sun has changed again, and is returning towards what solar scientists call a "grand minimum" such as we saw in the Little Ice Age.
The match between solar activity and climate through the ages is sometimes explained away as coincidence. Yet it turns out that, almost no matter when you look and not just in the last 1000 years, there is a link. Solar activity has repeatedly fluctuated between high and low during the past 10,000 years. In fact the Sun spent about 17 per cent of those 10,000 years in a sleeping mode, with a cooling Earth the result.
You may wonder why the international climate panel IPCC does not believe that the Sun's changing activity affects the climate. The reason is that it considers only changes in solar radiation. That would be the simplest way for the Sun to change the climate – a bit like turning up and down the brightness of a light bulb.
Satellite measurements have shown that the variations of solar radiation are too small to explain climate change. But the panel has closed its eyes to another, much more powerful way for the Sun to affect Earth's climate. In 1996 we discovered a surprising influence of the Sun – its impact on Earth's cloud cover. High-energy accelerated particles coming from exploded stars, the cosmic rays, help to form clouds.
When the Sun is active, its magnetic field is better at shielding us against the cosmic rays coming from outer space, before they reach our planet. By regulating the Earth's cloud cover, the Sun can turn the temperature up and down. High solar activity means fewer clouds and and a warmer world. Low solar activity and poorer shielding against cosmic rays result in increased cloud cover and hence a cooling. As the Sun's magnetism doubled in strength during the 20th century, this natural mechanism may be responsible for a large part of global warming seen then.
That also explains why most climate scientists try to ignore this possibility. It does not favour their idea that the 20th century temperature rise was mainly due to human emissions of CO2. If the Sun provoked a significant part of warming in the 20th Century, then the contribution by CO2 must necessarily be smaller.
Ever since we put forward our theory in 1996, it has been subjected to very sharp criticism, which is normal in science.
First it was said that a link between clouds and solar activity could not be correct, because no physical mechanism was known. But in 2006, after many years of work, we completed experiments at DTU Space that demonstrated the existence of a physical mechanism. The cosmic rays help to form aerosols, which are the seeds for cloud formation.
Then came the criticism that the mechanism we found in the laboratory could not work in the real atmosphere, and therefore had no practical significance. We have just rejected that criticism emphatically.
It turns out that the Sun itself performs what might be called natural experiments. Giant solar eruptions can cause the cosmic ray intensity on earth to dive suddenly over a few days. In the days following an eruption, cloud cover can fall by about 4 per cent. And the amount of liquid water in cloud droplets is reduced by almost 7 per cent. Here is a very large effect – indeed so great that in popular terms the Earth's clouds originate in space.
So we have watched the Sun's magnetic activity with increasing concern, since it began to wane in the mid-1990s.
That the Sun might now fall asleep in a deep minimum was suggested by solar scientists at a meeting in Kiruna in Sweden two years ago. So when Nigel Calder and I updated our book The Chilling Stars, we wrote a little provocatively that "we are advising our friends to enjoy global warming while it lasts."
In fact global warming has stopped and a cooling is beginning. Mojib Latif from the University of Kiel argued at the recent UN World Climate Conference in Geneva that the cooling may continue through the next 10 to 20 years. His explanation was a natural change in the North Atlantic circulation, not in solar activity. But no matter how you interpret them, natural variations in climate are making a comeback.
The outcome may be that the Sun itself will demonstrate its importance for climate and so challenge the theories of global warming. No climate model has predicted a cooling of the Earth – quite the contrary. And this means that the projections of future climate are unreliable. A forecast saying it may be either warmer or colder for 50 years is not very useful, and science is not yet able to predict solar activity.
So in many ways we stand at a crossroads. The near future will be extremely interesting. I think it is important to accept that Nature pays no heed to what we humans think about it. Will the greenhouse theory survive a significant cooling of the Earth? Not in its current dominant form. Unfortunately, tomorrow's climate challenges will be quite different from the greenhouse theory's predictions. Perhaps it will become fashionable again to investigate the Sun's impact on our climate.
-
Professor Henrik Svensmark is director of the Center for Sun-Climate Research at DTU Space. His book The Chilling Stars has also been published in Danish as Klima og Kosmos Gads Forlag, DK ISBN 9788712043508)
 --- --- ---
Sjá: March across the Belts á Wikipedia.  Þar er fjallað um atvikið þegar Svíar komu Dönum á óvart 1658 með því að ganga yfir til Danmerkur, eins og fram kemur í grein Henriks. Þá var kaldasta tímabil Litlu Ísaldarinnar sem féll saman við Maunder lágmarkið í virkni sólar. Margir óttast að álíka kuldaskeið eigi eftir að koma einhverntíman aftur, vonandi þó ekki á næstu áratugum:
Wikipedia síðan byrjar svona:
"The March across the Belts was a campaign between January 30 and February 8, 1658 during the Northern Wars where Swedish king Karl X Gustav led the Swedish army from Jutland across the ice of the Little Belt and the Great Belt to reach Zealand (Danish: Sjælland). The risky but vastly successful crossing was a crushing blow to Denmark, and led to the Treaty of Roskilde later that year...."
  
Að prófessorinn skuli leyfa sér að tala svona...
Ég á bara ekki orð., eða þannig...
Fara ekki margir hreinlega úr límingunum við lestur svona greinar?

En, hvað ætla menn að gera ef í ljós kemur að þetta var bara náttúruleg hitabóla?
Hvernig ætla menn að bregðast við ef ástandið verður eins og á miðöldum þegar Evrópubúum fækkaði um 30%?
Hvernig ætla menn að bregðast við kali í túnum, haustfrostum með ónýtri uppskeru og hafís?
Hvernig...?

Meginflokkur: Vísindi og fræði | Aukaflokkar: Stjórnmál og samfélag, Umhverfismál, Menntun og skóli | Breytt 13.9.2009 kl. 13:37 | Facebook
« Síðasta færsla | Næsta færsla »